Pan-fried Scallops with White Pineau
Ingredients - for 4 persons
Shell the scallops, wash them and cut them in half. Finely chop the shallots. Peel the carrots and make ribbons in the red of the carrots along their entire length using a peeler.
In a saucepan, sweat the shallots with 30g of butter, add the carrot ribbons then cook for 10 minutes covered. Then, pour the Pineau, bring to the boil then add the fresh cream and let reduce by half. Season.
Quickly fry the salted and peppery scallops in a pan with the remaining butter (1 min on each side).
Arrange the carrot ribbons on a plate, the scallops around with sprigs of chervil as decoration.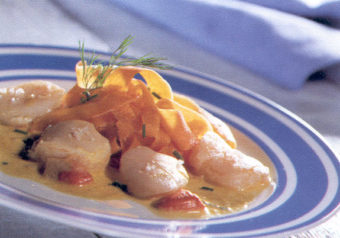 Recipe made by Jean-Jacques Destrieux – Restaurant du Château – Jarnac (16)