Pan-fried Veal Chop with figs and White Pineau
Ingredients - for 4 persons
Fry the 2 veal chops in a cast iron casserole dish, add the crushed garlic cloves then deglaze with the Pineau. Reduce by half, add the veal stock and finish cooking in the oven for 10 minutes at 200°.
Cut the figs into four, sauté them in butter, add the walnuts and grapes, at the end of cooking add the chopped shallot and the cream. Reduce.
Arrange the ribs on the serving dish and place the creamed fruit on top, drizzle with the reduced rib cooking juices.
Arrange the potatoes cooked in coarse salt around them, then open them in half and place a knob of butter on each.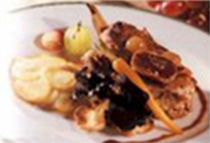 Recipe made by Thierry Verrat – Restaurant La Ribaudière – Bourg-Charente (16)